This watermelon and cucumber salad recipe with feta and pistachios is so light and refreshing! Great salad for a summer day. The sweet and savory is wonderful with the lime salad dressing! The sweet watermelon and the feta cheese makes a great pairing. Then the salty feta cheese with the rich pistachios and the sweet dressing..oh my! The first time I made this we were hooked.
Preparing the watermelon and cucumber salad recipe
You really don't have to cube the cucumber and watermelon but it adds a nice look when presenting the salad. I usually cube the watermelon and cucumber in equal sizes and create a checkerboard in a 9 x 13 dish. When you add the cheese, pistachios, and dressing on the top, your guests will be in awe!
The dressing
The dressing for the watermelon and cucumber salad is very easy to put together. Grate the rind of a lime, then juice that lime and three more. Sea salt and pepper, pure maple syrup, and olive oil round out the dressing. The sweetener is pure maple syrup. Not pancake maple syrup. Pure maple syrup. It sweetens the dressing just as well as sugar and it has a lower glycemic index. Plus pure maple syrup tends to be a touch sweeter.
The pistachios and the feta
There is feta that is already crumbled and there is feta that comes in blocks. Both forms of feta work fine. I prefer the block feta because it is usually still in its brine and has a much better taste. The feta that comes in blocks lets you control the size of the pieces of feta you put on the salad. The pistachios add a rich flavor to the salad. Pistachios are available already shelled to make things easier.
I hope your family loves the watermelon and cucumber salad recipe as much as mine does! Enjoy!
This salad goes well with the two ingredient turkey burgers!
Please visit my sides and salads page for more ideas!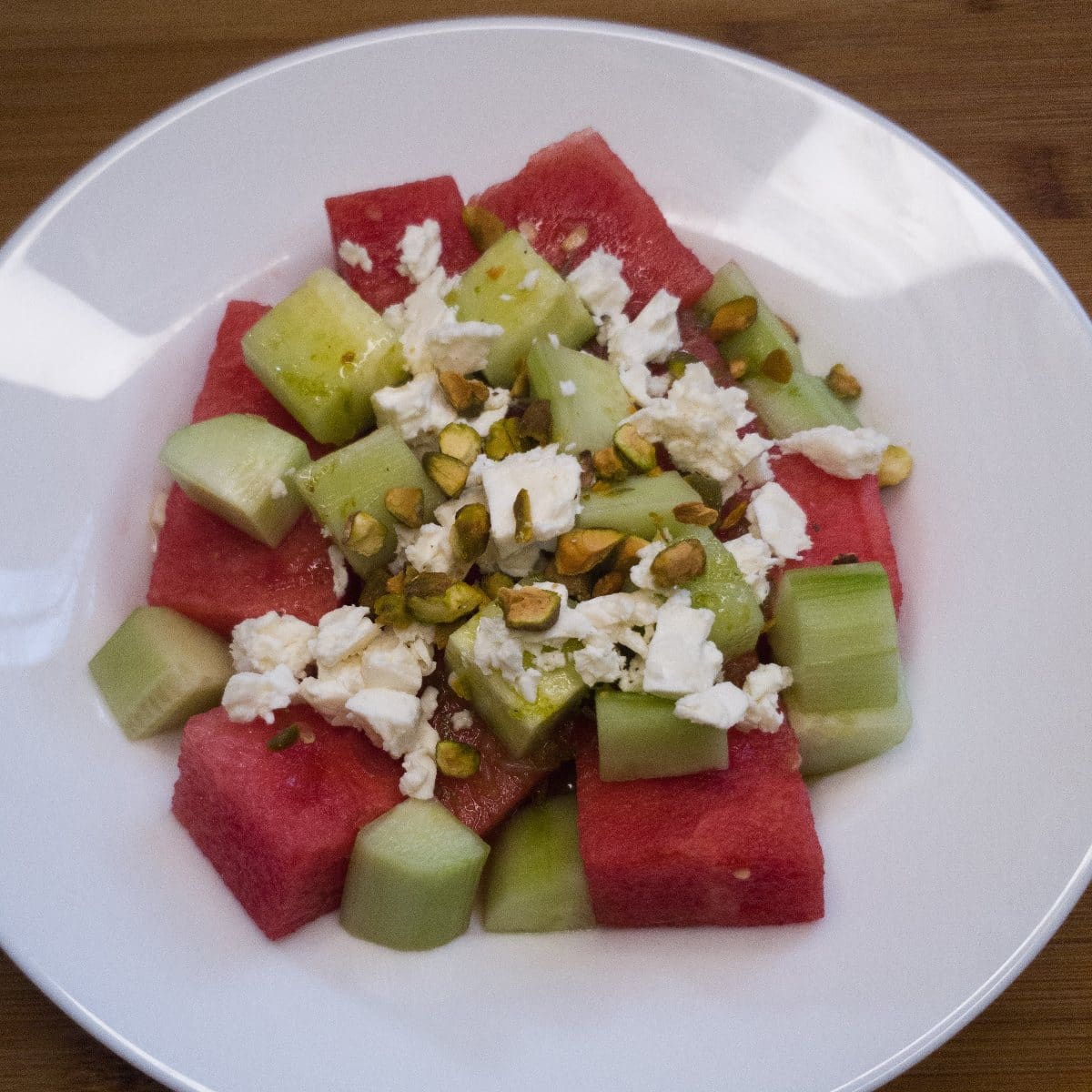 Ingredients
Juice of 4 small limes

Grated rind of one lime

1/4

teaspoon

sea salt

1/4

teaspoon

black pepper

2

teaspoons

of pure maple syrup

1/4

cup

olive oil

1/2

small watermelon cut into one inch cubes

2

small English cucumbers cut into one inch cubes

Crumbled feta

Shelled pistachios
Instructions
Mix juice of limes through maple syrup. Whisk in olive oil.

Mix dressing with watermelon and cucumber. Top with feta and pistachios.

Make it your own! Don't like feta? Use goat cheese or no dairy at all. Try other types of nuts if you don't like pistachios. Also you can substitute other melons for the cucumber. Enjoy!
Nutrition
Serving:
12
servings
|
Calories:
217
kcal
|
Carbohydrates:
21
g
|
Protein:
6
g
|
Fat:
14
g
|
Saturated Fat:
4
g
|
Polyunsaturated Fat:
2
g
|
Monounsaturated Fat:
7
g
|
Cholesterol:
17
mg
|
Sodium:
267
mg
|
Potassium:
415
mg
|
Fiber:
2
g
|
Sugar:
14
g
|
Vitamin A:
1247
IU
|
Vitamin C:
20
mg
|
Calcium:
128
mg
|
Iron:
1
mg