I came up with this walnut and spinach stuffed chicken recipe with a blue cheese sauce from just a fridge cleanout. The flavors all just seemed to go together and the blue cheese sauce just topped it off deliciously! Just as with any recipe, you make this a starting point for something that you like.
Preparing the chicken for the walnut and spinach stuffed chicken
To make the chicken thin and workable cutting the chicken on the bias and pounding it thin is necessary. Cutting the chicken on the bias is not difficult at all. This technique is basically butterflying the chicken. After butterflying, just finish cutting all the way through and you end up with two pieces. You then take the two pieces and place them between two pieces of plastic wrap. Using a meat tenderizing mallet, pound the chicken so it is this but not torn. Repeat this for all the pieces of chicken you are using.
The spinach
I made the recipe with two 10 ounce bags of fresh spinach that I wilted in a pan with a little bit of olive oil. Just add two tablespoons of olive oil to a pan over medium heat and add the spinach. Place the lid on and stir occasionally. The spinach will start to wilt almost right away. Strain the spinach well after it is all wilted. The other option is to purchase two 10 ounce packages of frozen spinach and thaw and drain them. It is very important to try and get as much moisture as possible out of the frozen spinach.
Variations
The blue cheese sauce and walnuts can be substituted if you are not a fan of them. An Asiago cheese sauce and pistachios would work well.
It is important to remember to place the chicken seam side down to ensure the stuffing stays in the chicken while baking. If it is baked seam side up, the chicken may open up and it may turn into a casserole.
The walnut and spinach stuffed chicken recipe can be a great meal for a large crowd and can be made the night before. We made the recipe the night before in 9 x 13 pans. We then covered them and stored them in the fridge. The sauce was made the day of the party but it could be made the night before.
If you are looking for other stuffed chicken recipes, try our Italian Stuffed Chicken Recipe!
We love this recipe and we are sure you will too!
Please follow, like, and subscribe, on Instagram, YouTube, and Facebook! Thanks!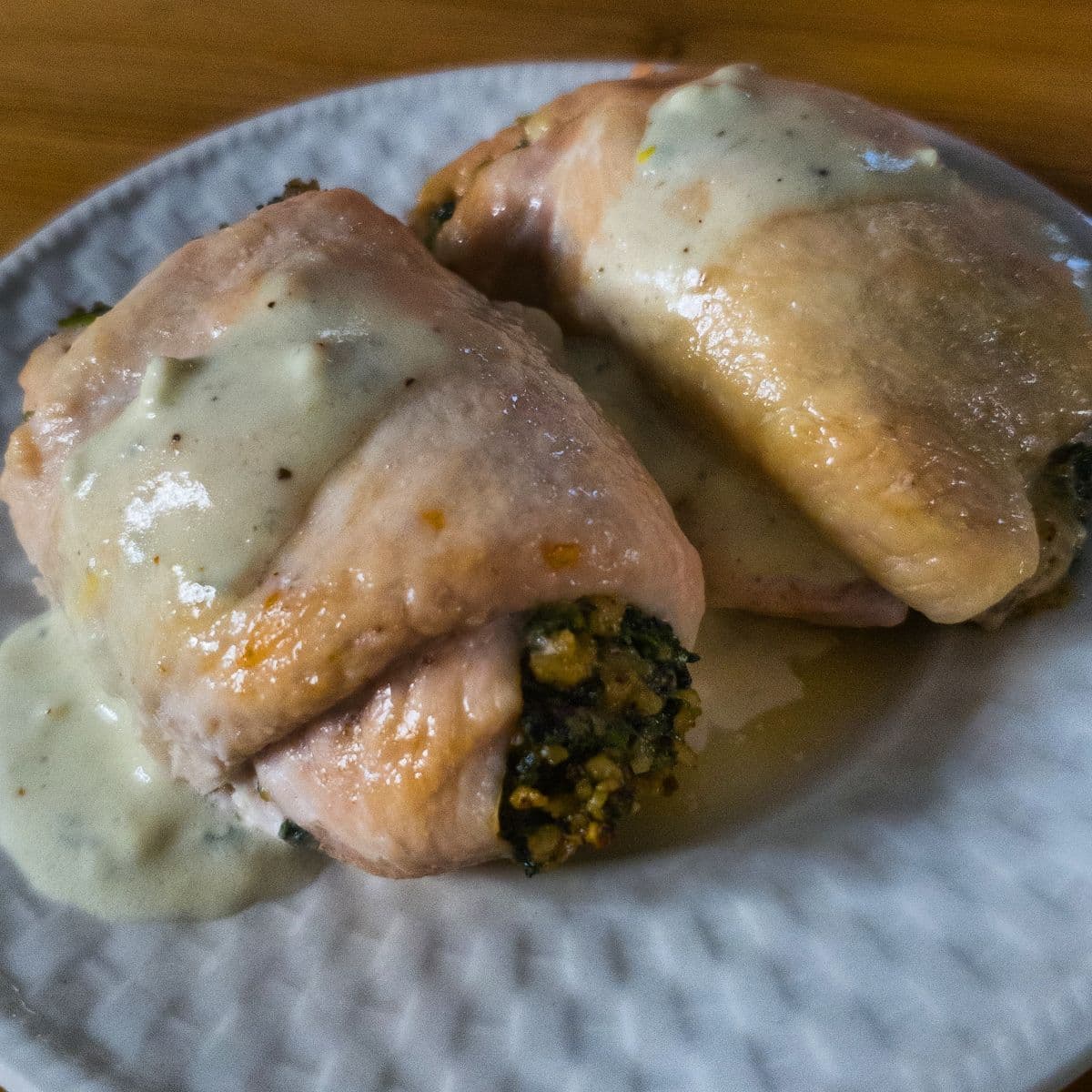 Ingredients
1

cup

of finely chopped walnuts

8

oz

of spinach

2

T

of olive oil divided

2

large chicken breasts cut on bias in thirds and pounded flat.

2

cups

of cream

4-5

ounces

of blue cheese

1

t

of onion powder

1

t

of garlic powder

Salt and pepper to taste
Instructions
Heat 1T of olive oil in a large skillet. Add spinach and cook until wilted. Remove spinach and add to food processor. Toast ground walnuts in same pan then add to spinach in food processor. Pulse until finely chopped.

Brush remaining tablespoon of olive oil to 8×8 pan. Divide spinach mixture evenly among chicken breasts and roll each, placing seam side down. Brush top of rolled chicken with olive oil. Bake uncovered at 375 degrees for 20 minutes or chicken is no longer pink.

For the sauce, heat cream over medium heat then add blue cheese, onion powder, and garlic powder. Stir until cheese is melted. Add sea salt and pepper to taste.

Make it your own! Make the sauce with other cheeses or use other nuts for the filling.

You are only 3 ingredients away from spinach walnut pesto with the ingredients in the food processor! Garlic, parmesan cheese, and garlic.
Nutrition
Serving:
4
servings
|
Calories:
872
kcal
|
Carbohydrates:
11
g
|
Protein:
34
g
|
Fat:
80
g
|
Saturated Fat:
36
g
|
Polyunsaturated Fat:
17
g
|
Monounsaturated Fat:
21
g
|
Trans Fat:
0.01
g
|
Cholesterol:
210
mg
|
Sodium:
503
mg
|
Potassium:
959
mg
|
Fiber:
3
g
|
Sugar:
5
g
|
Vitamin A:
7314
IU
|
Vitamin C:
18
mg
|
Calcium:
320
mg
|
Iron:
3
mg