When this spiced baked ham recipe is baking in the oven it will remind you of the holidays! The warm spices mixed with orange juice are amazing! It is a very easy recipe to put together.When I first started making this spiced baked ham recipe I found that the spice mixture that you rub on the ham was a little runny and did not stay on. Scoring the ham does help. As the ham was baking though, it was a great basting liquid.
The pineapple pretzel fluff recipe, or my roasted potato recipe goes great with this ham! This ham recipe can be prepared ahead of time and baked just in time for your dinner. A holiday ham recipe that your guests will love!
Scoring the ham
I have found that scoring the ham will enable the spice mixture to stay on the ham a bit better. Cut across the ham about 1/2 inch deep.Then cut across the ham in the other direction at 90 degrees from the first cut. This will form a cube or diamond pattern on the top of the ham. The spice mixture will get in between the cuts and the edges will be browned and caramelized.
Baking and basting the spiced baked ham
I usually start basting the ham about 30 minutes into baking. You can baste the ham with either a baster or just a large spoon. At first it may not seem that anything is happening as you are basting, however you will see great results by the end of the bake time. Close to the end of the bake time you may start running out of liquid because it may all cook down. Just add a little orange juice at a time to deglaze the bottom of the baking pan. This way the cooked down spices and sugar will mix with the orange juice and you can proceed basting.
We have made this our go to ham recipe and we hope you will too!
Please follow, like, and subscribe, on Instagram, YouTube, and Facebook! Thanks!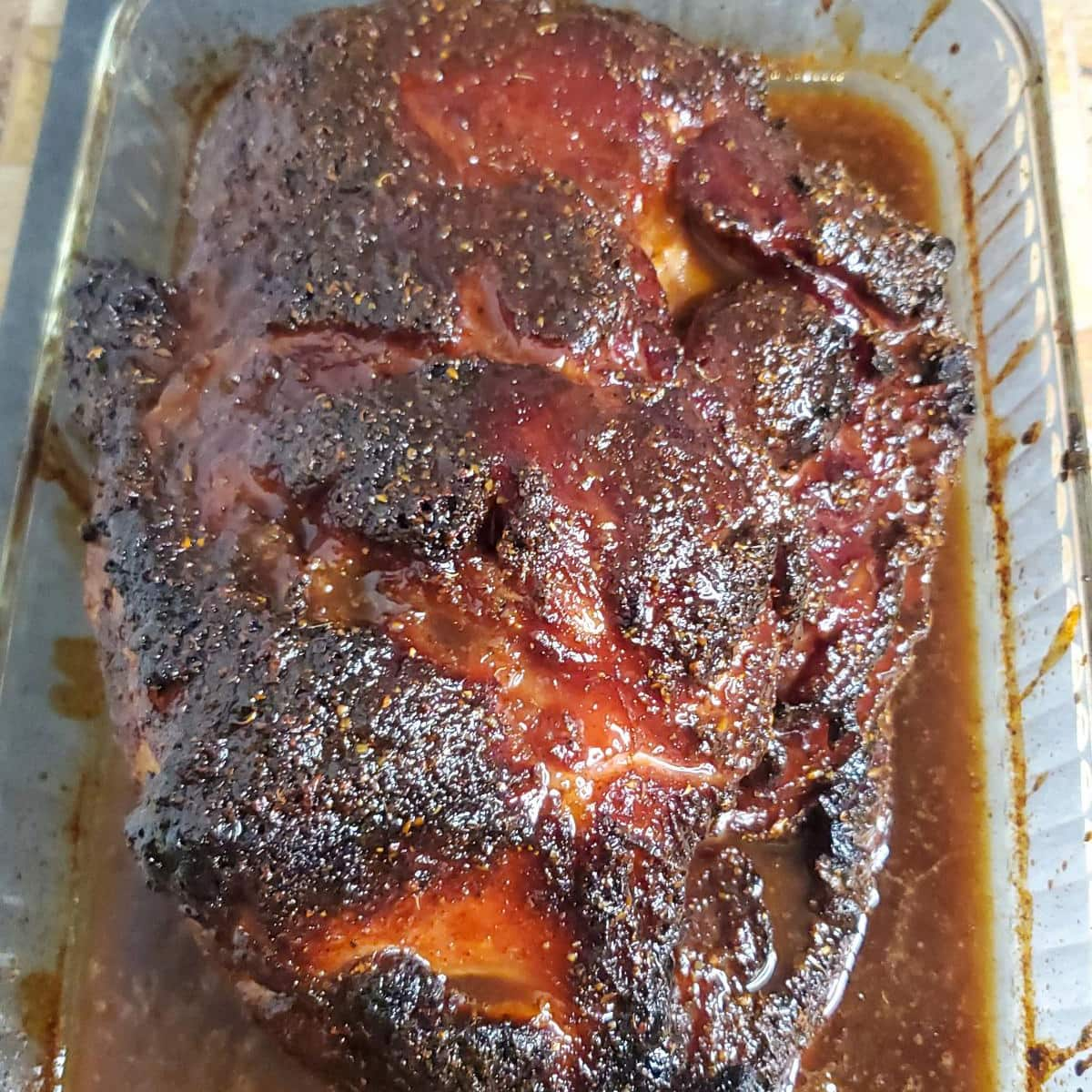 Ingredients
1

9-12 pound

ham

4

tablespoons

of brown sugar

1

tablespoon

ground coriander

1

tablespoon

ground cinnamon

1

tablespoon

ground cumin

1

teaspoon

freshly ground black pepper

1/2

teaspoon

ground allspice

1/4

cup

honey

1/2

cup

of orange juice
Instructions
Preheat oven to 325 degrees F

Combine brown sugar through orange juice in a bowl. 

Pour mixture over ham and rub in.

Bake for 10 minutes per pound.  Baste every 15 minutes or so.  If you run out of basting liquid just add a little bit of orange juice.
Nutrition
Serving:
20
servings
|
Calories:
677
kcal
|
Carbohydrates:
4
g
|
Protein:
59
g
|
Fat:
46
g
|
Saturated Fat:
16
g
|
Polyunsaturated Fat:
5
g
|
Monounsaturated Fat:
22
g
|
Cholesterol:
169
mg
|
Sodium:
3232
mg
|
Potassium:
811
mg
|
Fiber:
0.4
g
|
Sugar:
3
g
|
Vitamin A:
19
IU
|
Vitamin C:
4
mg
|
Calcium:
31
mg
|
Iron:
3
mg