This easy creamy mac and cheese recipe is a no bake mac and cheese recipe that is ready in no time! My family loves creamy cheesy mac and cheese and this recipe fits the bill. The types of cheese and milk you use are up to you, however, whole milk cheese and milk work best. This is a very kid friendly recipe that makes a great lunch, dinner, or side dish recipe! I hope your family loves this easy creamy mac and cheese recipe as much as mine does!
Cheese and milk for the easy creamy mac and cheese
I have not tried to use anything else but whole cheeses and whole milk in this recipe. Nut milk will work but it may not combine as well. I did use monterey jack cheese along with the cheddar cheese because monterey jack cheese is a great melting cheese. That was just my choice but you can use whatever cheese that does it for you! My other suggestion is to freshly grate your cheese. Pre-packaged grated cheese is coated with an anti-caking substance that will keep the cheese from sticking together. This substance may affect the way the cheese melts. Freshly grating cheese takes seconds and will make your mac and cheese blend better. Easy creamy mac and cheese goes well with my two ingredient turkey burger. A great family friendly pairing!
Combining the ingredients
The combination of the ingredients in this recipe is very easy, however, you do need to keep your eye on it while it is cooking. When combining the flour and spices with the butter, the flour needs to cook a bit while mixing with the other ingredients. This cooks out the raw taste of the flour and adds better flavor to the recipe. The mixture will also change color a bit. After the flour is mixed and cooked, add the warm whole milk and combine. You will see the flour mixture clumps disappear into the milk mixture. Then add the sour cream and combine. Next, turn the heat to medium-low and continue to stir the mixture. The mixture will thicken enough to coat the back of a spoon. This means that the mixture will coat the back of a spoon in a thin layer without all of it running off.
Next, mix in the cheese and stir until it is melted and combined. Then place the cooked pasta in an appropriately sized bowl. Then pour the cheese mixture over and combine. I feel it is best to serve right away.
Thanks for visiting!
Please follow, like, and subscribe, on Instagram, YouTube, and Facebook!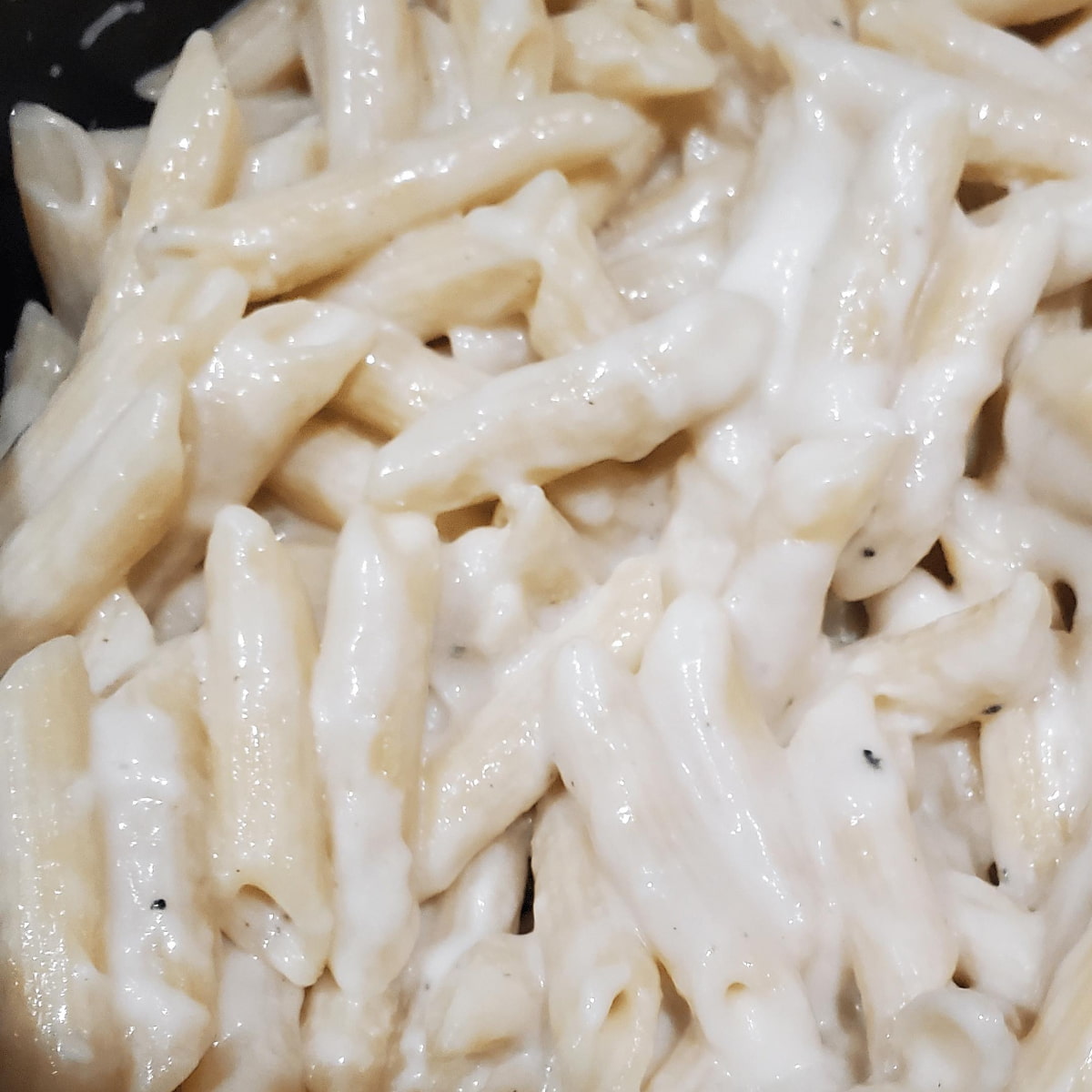 Ingredients
4

tablespoons

of butter

4

tablespoons

of all purpose flour

1

teaspoon

of sea salt

1

teaspoon

of crushed black pepper

½

teaspoon

of garlic powder

½

teaspoon

of onion powder

2

cups

of warm whole milk

½

cup

of sour cream

2

cups

of shredded cheddar cheese

2

cups

of shredded monterey jack cheese

12

ounces

of uncooked pasta of your choice
Instructions
Boil pasta according to directions on the package.

While pasta is cooking, melt butter in a large saucepan over medium heat.

Add flour, sea salt, black pepper, garlic powder, and onion powder. Mix until combined and continue mixing for 1-2 minutes.

Mix in milk until well combined.

Mix in sour cream until well combined.

Turn heat to medium- low and continue heating and stirring mixture until thickened and coats the back of a spoon.

Add the cheeses and mix until the cheeses are melted.

Add pasta and combine.
Nutrition
Serving:
12
servings
|
Calories:
339
kcal
|
Carbohydrates:
26
g
|
Protein:
15
g
|
Fat:
20
g
|
Saturated Fat:
11
g
|
Polyunsaturated Fat:
1
g
|
Monounsaturated Fat:
5
g
|
Trans Fat:
0.2
g
|
Cholesterol:
56
mg
|
Sodium:
480
mg
|
Potassium:
174
mg
|
Fiber:
1
g
|
Sugar:
3
g
|
Vitamin A:
577
IU
|
Vitamin C:
0.1
mg
|
Calcium:
342
mg
|
Iron:
1
mg