Our plum and peach bruschetta recipe will wow your guests! My plum and peach bruschetta recipe that works every season. It's a great goat cheese and bruschetta recipe. A great plum and peach recipe also! This recipe is one of my personal favorites. I really love the flavor combination of peaches and plums. Fresh, sweet, and when I see plums at the market I know fall is around the corner!
The bruschetta of the plum and peach bruschetta
I usually go to The Breadsmith here in Lakewood, Ohio to get our bruschetta. Try to get a bruschetta with some width to it. This way there is more of the soft inside to place the plum and peach mixture on. It could get tough to eat with too much crust. Pre-slicing the bruschetta and putting it in a ziplock bag until you need it for the recipe is a great way to prepare ahead.
You can purchase your bruschetta or *gasp* you could make your own! It is quite satisfying making bruschetta. It is involved, but you can make a few at a time. And OH! to hear that crunch!
The peaches and plums
Slicing and dicing the peaches and plums could be a bit messy. When I am getting the pit out of the peach, I try to slice along the indentation at the top of the peach. I follow that around the peach and twist the two halves. So if this worked for you, you will have one half with the pit and the other half without the pit.
You can do the same with the plums. I have watched videos on taking the pit out with a pair of pliers. I personally would not try that. After the plums and peaches are pitted, soak them in the pure maple syrup for 20 minutes. The rest of the Plum and Peach Bruschetta recipe comes together very easily.
The rest of the recipe…
After the plums and peaches have had their soak, strain them, and place them in another bowl. Then add the balsamic vinegar, olive oil, and basil. This is such a wonderful combination! Place a spoonful of the plum and peach mixture on a piece of bruschetta with goat cheese spread on it. Enjoy!
Please visit my appetizer page for more ideas!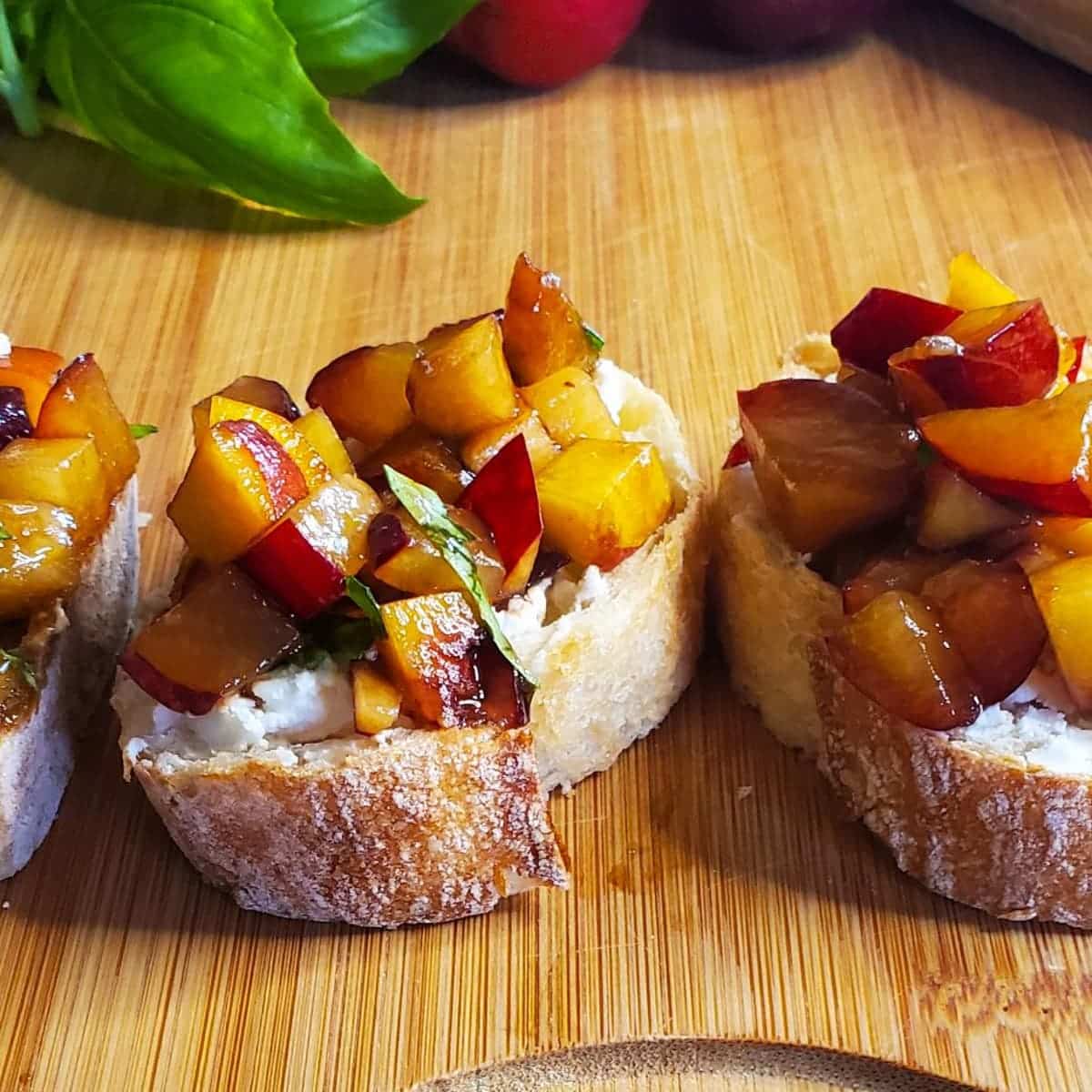 Ingredients
1

baguette

4

ounces

of goat cheese

2

cups

of diced plums and peaches

1 1/2

tablespoons

of olive oil

4

teaspoons

of balsamic vinegar

2

tablespoons

of pure maple syrup

1

tablespoon

of chopped basil
Instructions
Combine peaches and plums with maple syrup and let set for 20 minutes.

After 20 minutes are up, strain the peaches and plums and place them in another bowl. Then mix olive oil, balsamic vinegar, and basil with plums and peaches. Next, slice baguette and spread goat cheese on slices.

Top with peach and plum mixture.
Nutrition
Serving:
8
servings
|
Calories:
159
kcal
|
Carbohydrates:
24
g
|
Protein:
7
g
|
Fat:
4
g
|
Saturated Fat:
2
g
|
Polyunsaturated Fat:
1
g
|
Monounsaturated Fat:
1
g
|
Cholesterol:
9
mg
|
Sodium:
356
mg
|
Potassium:
138
mg
|
Fiber:
1
g
|
Sugar:
9
g
|
Vitamin A:
303
IU
|
Vitamin C:
4
mg
|
Calcium:
69
mg
|
Iron:
2
mg