Our Italian stuffed chicken recipe has a long tradition at our house. My wife and I are celebrating our 26th wedding anniversary this year, and this is one of the first meals we made. We had company coming over so we had to throw something together with what we had on hand. Luckily, we had chicken breasts, sausage, cream cheese, and Asiago cheese on hand. I browned the sausage and mixed it with the cheeses and rolled it up in the chicken. Breaded it, browned, it, and baked it. An easy Italian stuffed chicken recipe that includes Asiago, Italian sausage, and cream cheese. This easy chicken recipe will be a family favorite recipe!
Preparing the chicken breasts
Cutting the chicken on the bias is not difficult at all. This technique is basically butterflying the chicken. After butterflying, just finish cutting all the way through and you end up with two pieces. You then take the two pieces and place them between two pieces of plastic wrap. Using a meat tenderizing mallet, pound the chicken so it is this but not torn. Repeat this for all the pieces of chicken you are using.
The Italian sausage in the Italian stuffed chicken recipe
We usually get sausage from the local store. They make a great Italian sausage! I buy it in the casing and take the meat out of the sausage. Place a tablespoon size piece and place it in a large skillet. Next, flatten it with a spatula so it browns a bit faster. When the sausage starts to become firm, start breaking it up. The smaller pieces will mix better with the cheeses. There is no reason that you couldn't get bulk sausage and go from there.
Variations on the Italian stuffed chicken recipe
The stuffing only consists of three ingredients: Asiago cheese, cream cheese, and Italian sausage. The asiago cheese can be substituted with mozzarella, the cream cheese with mascarpone, and the sausage can be changed up. You can make this recipe anyway you like but the original is delicious.
I hope this Italian stuffed chicken recipe becomes a part of your family tradition!
This recipe would go great with spinach topped with the caesar salad dressing!
Please follow, like, and subscribe, on Instagram, YouTube, and Facebook! Thanks!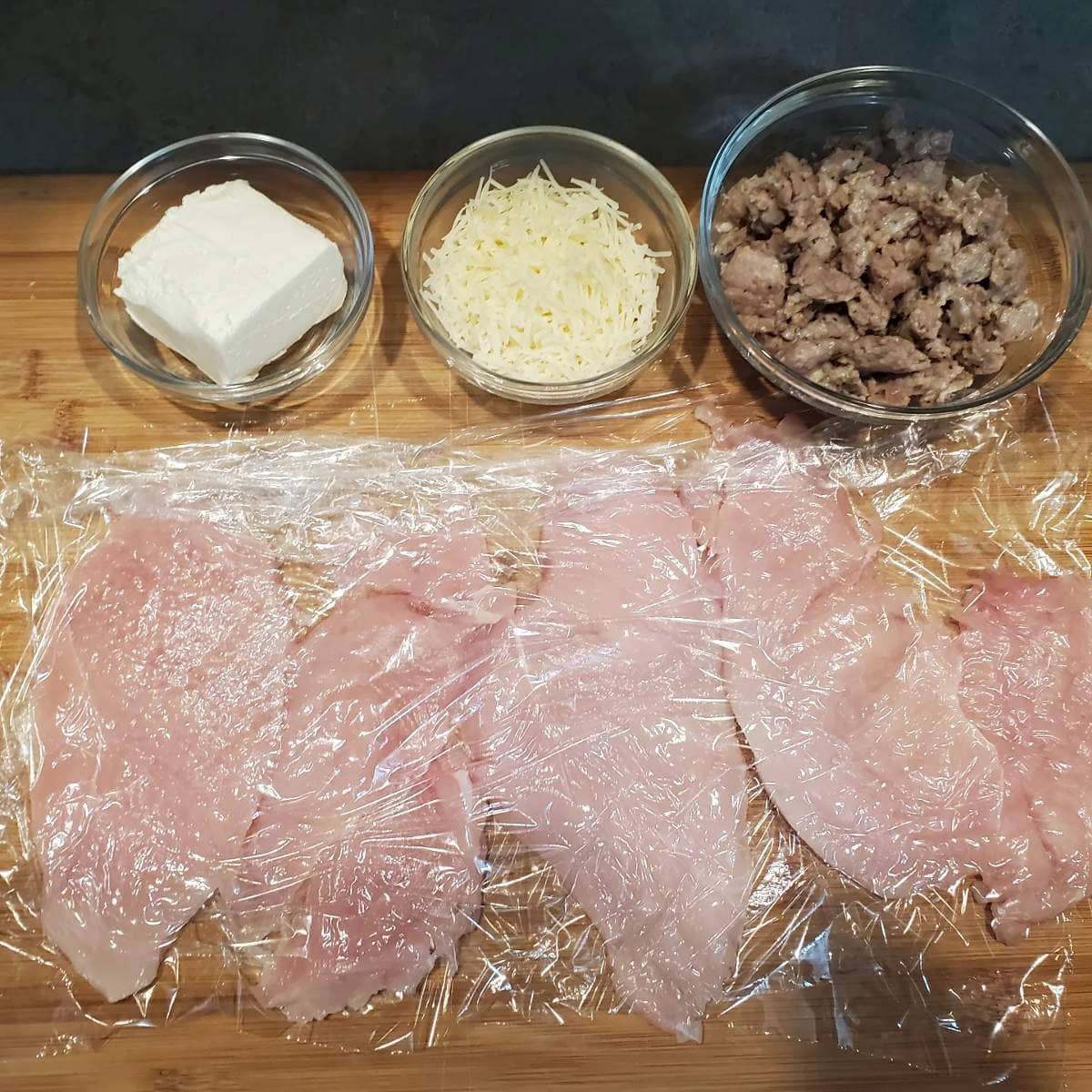 Ingredients
2

chicken breasts cut on bias and pounded thin

8

ounces

of Italian sausage taken out of casing and cook until brown and crumbly. Let cool.

1/2

cup

of grated Asiago cheese

4

ounces

room temperature cream cheese

2

tablespoons

of butter

1

cup

of bread crumbs

you can use your own or use panko

1/2

cup

of flour

1

egg whisked with 2 tablespoons of milk
Instructions
Combine sausage, Asiago cheese, and cream cheese in a bowl and mix until combined.

Place 3-5 tablespoons of the sausage mixture in middle of chicken breast. Roll the chicken breast with mixture and place seam side down on a plate big enough for all four chicken breasts. Repeat stuffing and rolling with next three chicken breasts.

Now for breading the stuffed chicken breasts. To set up your breading station, place each of the flour, egg mixture, and bread crumbs in separate shallow bowls. First, place a stuffed chicken breast in the flour and cover well. Shake off any excess flour and dip the flour covered chicken breast in the egg mixture and cover well. Then take the same chicken breast and cover with bread crumbs and place seam side down on a plate. Repeat with the other three breasts

Preheat oven to 375 degrees F.

Melt the two tablespoons of butter in a large skillet over a medium heat. Once melted, brown each side of the breaded chicken and then place in an oven proof dish.

Bake the browned chicken for 20 minutes or until the chicken reaches a temperature of 165 degrees F.
Notes
My wife enjoyed just egg and almond flour as a breading on the chicken. It turned out really well!
Nutrition
Serving:
4
servings
|
Calories:
602
kcal
|
Carbohydrates:
34
g
|
Protein:
35
g
|
Fat:
35
g
|
Saturated Fat:
14
g
|
Polyunsaturated Fat:
5
g
|
Monounsaturated Fat:
13
g
|
Trans Fat:
0.3
g
|
Cholesterol:
147
mg
|
Sodium:
1108
mg
|
Potassium:
445
mg
|
Fiber:
2
g
|
Sugar:
3
g
|
Vitamin A:
394
IU
|
Vitamin C:
1
mg
|
Calcium:
324
mg
|
Iron:
3
mg