The past few holidays my wife and I have not been making a breakfast bake recipe. However, we decided to make this croissant breakfast bake recipe on Easter this year. The question was which recipe to use? Savory or sweet? We decided on savory and used an easy recipe. Here is what we came up with! The bacon and croissant bake is a great holiday breakfast recipe!
Croissants for the croissant breakfast bake recipe
I was able to get the mini croissant rolls in the bakery section of the grocery store. This made the recipe easy and quick. Use large croissants if the mini croissants are not available. Just tear them up into smaller pieces.
Bacon
We used orange honey bacon (which is a family favorite) from Lucky's Market in Cleveland, Ohio, however, any bacon will work just fine. Ham or sausage is a substitute for the bacon or use no meat at all.  If you are using bacon, cook the bacon whole then cut it into bite sized pieces. This tends to work out better than trying to cook smaller pieces of bacon. Smaller pieces tend to be harder to keep an eye on and may burn more easily. The thick slices of honey orange bacon we used has an incredible caramelization which adds so much more flavor to the croissant breakfast bake recipe. Recipes are just starting points and you can take them in any direction you like.
Cheeses
I used a mix of monterey jack cheese, extra sharp cheddar, and Swiss. Most cheeses go with the rest of the ingredients. I use cheeses that melt well so they incorporate well when baking.
Assembling the croissant bake
This bake comes together quickly! Put down a layer of the croissants in a buttered baking dish. Next, pour over half of the egg mixture. Then sprinkle on one half of the cheese that you like. That is layer one. Just repeat the process again to make the second layer! Let the bake set in the fridge for at least three hours or overnight before baking.
You can make the banana cranberry muffins with your breakfast too!
Please follow, like, and subscribe, on Instagram, YouTube, and Facebook! Thanks!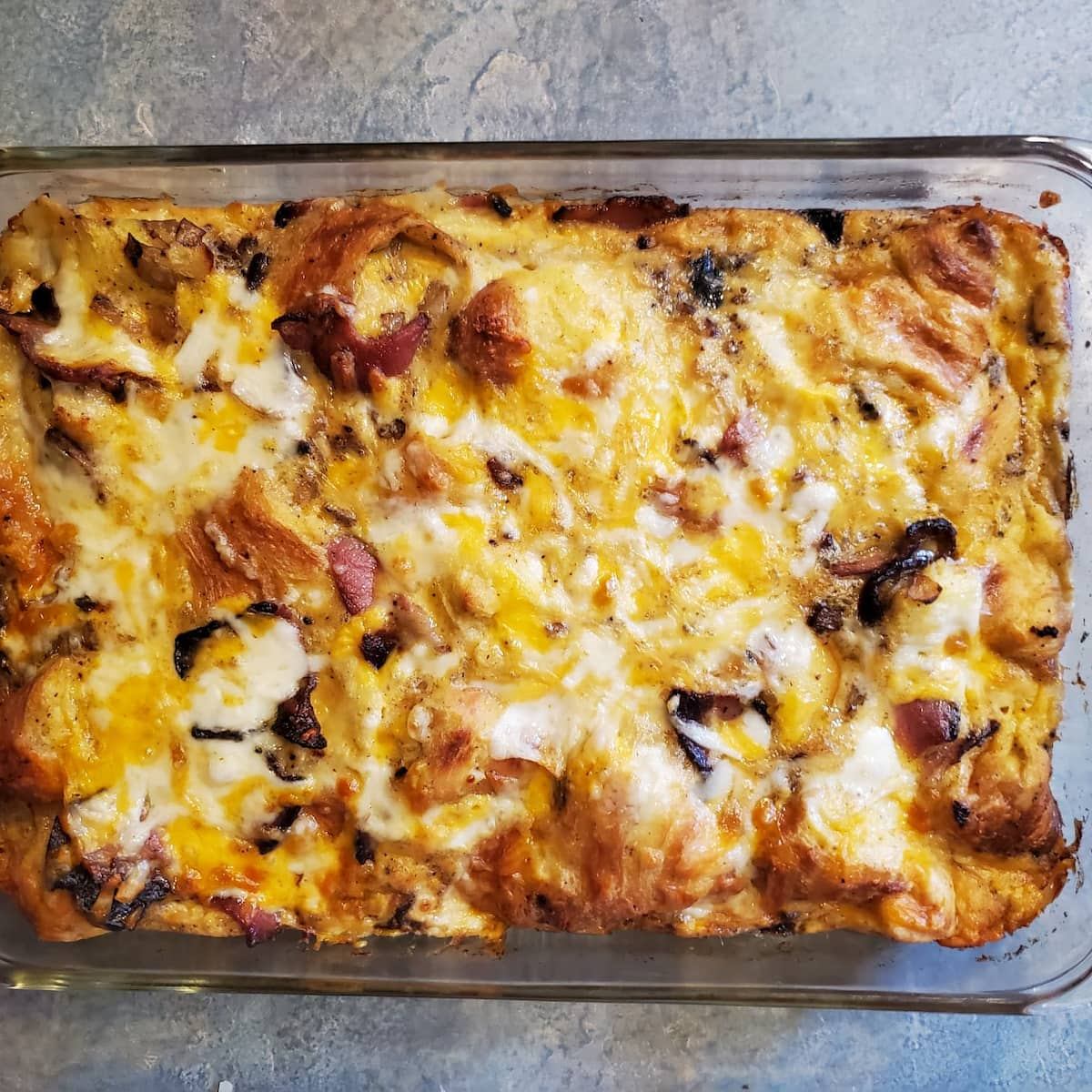 Ingredients
7 – 9

mini croissant rolls or 4-5 typical size

7

pieces

of bacon cooked then cut into bite sized pieces

1/2

cup

of regular milk or nut milk

1

medium diced onion

12

eggs

1

tablespoon

of Dijon mustard

2

cups

of shredded cheddar cheese or a mix of your choice

divided

1/2

teaspoon

of cracked black pepper

1/4

teaspoon

of sea salt
Instructions
Cook the bacon in a pan until just crispy.  If you don't like crispy bacon that works too. Reserve one tablespoon of bacon drippings and discard the rest.

In the same pan with the one tablespoon of drippings, cook the diced onion until translucent.

In a large bowl, add milk, mustard, eggs, salt, and pepper and mix until combined thoroughly.  Then mix in bacon and onions.

Place torn croissants in a buttered 9 x 13 baking dish and cover with 1/2 egg mixture and one cup of shredded cheese.

Repeat for the second layer.

Cover the 9 X 13 baking dish and let set in the fridge for at least 3 hours.

Bake covered in foil at 350 degrees F for about 30 minutes (depending on your oven).  Take foil off and cook an additional 10 minutes or until done.  Try not to overcook the eggs.  You want to cook it until it is not wobbly in the middle.
Nutrition
Serving:
12
servings
|
Calories:
513
kcal
|
Carbohydrates:
37
g
|
Protein:
18
g
|
Fat:
32
g
|
Saturated Fat:
16
g
|
Polyunsaturated Fat:
3
g
|
Monounsaturated Fat:
10
g
|
Trans Fat:
0.03
g
|
Cholesterol:
243
mg
|
Sodium:
629
mg
|
Potassium:
222
mg
|
Fiber:
2
g
|
Sugar:
10
g
|
Vitamin A:
1014
IU
|
Vitamin C:
1
mg
|
Calcium:
202
mg
|
Iron:
2
mg