The easy cheeseburger enchiladas were born one very cold Sunday. We decided to have burgers for dinner. We realized that we did not have hamburger buns but did have tortilla wraps. With a bit of praying and a bit of imagination I came up with the recipe for the Amen Burger Enchiladas. As with most recipes I make on the fly, I wait patiently for my wife to say "This is a make again". And she did.
Ground beef, cheese, and tomatoes
Brown the ground beef in a medium skillet with the salt and pepper. Once browned, drain off the grease. Next, add the drained tomatoes and shredded cheese and combine well. The mixture needs to be warm enough for the cheese to start to melt. You can use whatever cheese you like. Cheddar, mozzarella, havarti, swiss, the list goes on!
Rolling and baking the burger enchiladas
Place about 1/2 cup, or more, of the filling into a tortilla and roll them up. Place the rolled up tortillas, seam side down, into a greased 9 x 13 pan. Spray just a bit of oil on top of the tortillas before baking. Bake at 350 degrees F or until cheese has melted to your liking.
Toppings
In the picture above the mustard and ketchup are put on separately. After we had that I thought it would be great to mix ketchup, mustard, and mayonnaise. The mix made a nice topping. We also put on banana peppers, diced pickles, diced onions, all the things you like on a hamburger…or cheeseburger!
The amen burger enchiladas are great the next day for lunch or dinner. We have eaten them cold or hot. Other ideas I have yet to try is a cheese sauce on top! USe your imagination and make it your own! This recipe would go great with the strawberry almond salad. The contrast of sweet and savory is delicious!
Please follow, like, and subscribe, on Instagram, YouTube, and Facebook! Thanks!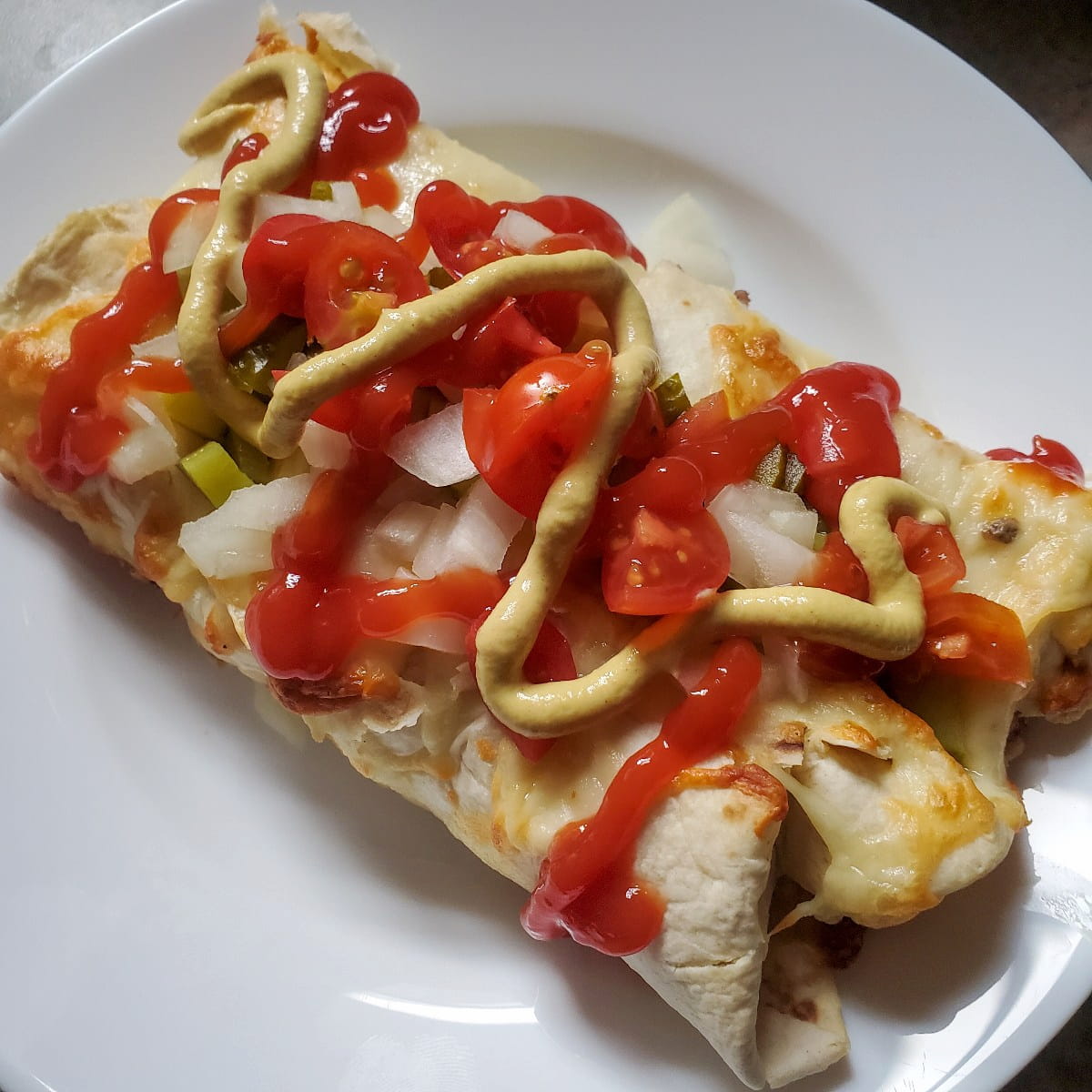 Ingredients
1 1/2

pound

of ground beef

8

flour tortilla wraps

1 – 14.5

oz

can of drained fire roasted tomatoes

1 1/2 – 2

cups

of grated cheese of your choice

1

cup

of chopped pickles

1/2

cup

of diced onion

1/2

cup

of sliced banana peppers

1/2

cup

of ketchup

1/4

cup

of mayonnaise

1/4

cup

of mustard

1/2

teaspoon

of sea salt

1/2

teaspoon

of ground black pepper
Instructions
Place the ground beef with salt and pepper in a large skillet. Brown and drain off excess grease. Then add cheese and fire roasted tomatoes to skillet with drained ground beef and combine.

Preheat oven to 350 degrees.

Place about a 1/2 cup to one cup of the beef mixture inside a tortilla as in the picture above, and place in a 9" x 13" baking dish. Roll and repeat for the next seven tortilla wraps.

Spray tops of rolled tortillas lightly with cooking spray.

Bake for 15 minutes or until cheese has melted.

Mix Ketchup, mustard, and mayonnaise together in a bowl.

Serve topped with pickle, onions, banana peppers, ketchup sauce, or any other your favorite burger toppings!
Nutrition
Serving:
6
servings
|
Calories:
775
kcal
|
Carbohydrates:
32
g
|
Protein:
41
g
|
Fat:
53
g
|
Saturated Fat:
24
g
|
Polyunsaturated Fat:
6
g
|
Monounsaturated Fat:
18
g
|
Trans Fat:
1
g
|
Cholesterol:
143
mg
|
Sodium:
1622
mg
|
Potassium:
558
mg
|
Fiber:
3
g
|
Sugar:
9
g
|
Vitamin A:
996
IU
|
Vitamin C:
12
mg
|
Calcium:
621
mg
|
Iron:
5
mg