This whole shrimp and smoked salmon baguettes recipe happened by accident! I was at work trying to come up with an appetizer that my family might enjoy. I needed to go grocery shopping and found almost all of the ingredients at Aldi's. The smoked salmon, shrimp, avocado, cream cheese, garlic bulb, and tomatoes were all there. The basil paste was at another local grocery store. The roasted garlic spread is great on its own as a great appetizer recipe! This one recipe has many variations!
The roasted garlic spread
This roasted garlic spread makes a great appetizer on its own. I normally make pesto but when I need a quick shortcut I use the Gourmet Garden basil paste. Pesto or diced basil leaves will also work. The roasted garlic is very simple to make. I have a recipe here. Wait for the roasted garlic to cool before squeezing it out into a mixing bowl. Warm the cream cheese for about 30-45 seconds in the microwave with the basil and roasted garlic. Mix the spread until well combined. Again, this makes a great spread on its own but even better when you add the shrimp and smoked salmon.
Putting the shrimp and smoked salmon baguettes all together
Roast the shrimp, if needed, in the oven at 375 F for about five minutes. Coat the shrimp with olive oil, sea salt and cracked pepper before roasting. I usually cook my shrimp this way. They come out nicer than in a frying pan. I use smoked salmon from Aldi's. Their smoked salmon comes in a 3 ounce package and has not failed me yet.
Layer the baguettes as you wish. There are many possibilities! Keep in mind the handling of the baguettes by the guests. You want to make it friendly to eat. Too many items may make a mess. The salmon will drape over the top of the ingredients keeping them in place. The shrimp need more help to stay in place. Diced onions, olives, and capers are other options for the toppings. Enjoy!
Please follow, like, and subscribe, on Instagram, YouTube, and Facebook!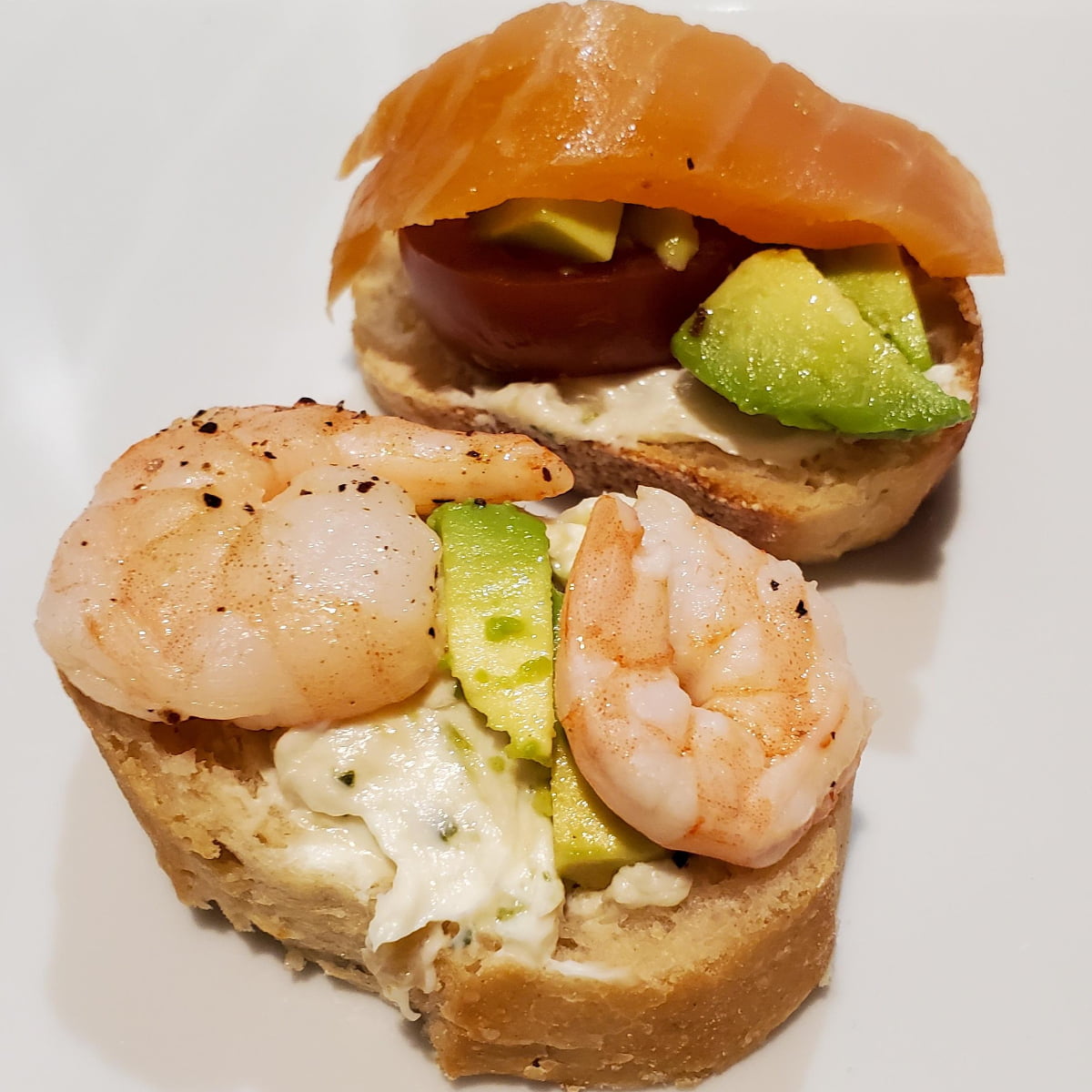 Ingredients
Garlic Basil Spread:
1

tablespoon

of Gourmet Garden basil paste

1 tablespoon of basil pesto, or 1 tablespoon of diced basil leaves

4

ounces

of cream cheese
Toppings:
1

cup

sliced grape or cherry tomatoes

½

cup

diced avocado

8

ounces

of small roasted shrimp

1

tablespoon

olive oil

1/4

teaspoon

sea salt and cracked pepper

3

ounces

of smoked salmon
Instructions
Garlic basil spread:
Squeeze out all the roasted garlic from the bulb and add basil paste and cream cheese into an appropriately sized, microwave safe bowl.

Heat mixture in the microwave for about 30-45 seconds or until cream cheese is softened.

Combine thoroughly.

Spread a thin layer of cream cheese mixture onto a piece of sliced baguette.

Spread thawed, cleaned shrimp on a lined baking sheet and cover with olive oil, sea salt, and cracked pepper. Bake for about 5 minutes at 375 degrees F, or until pink.

Top with shrimp, smoked salmon, avocado, or tomatoes.
Nutrition
Serving:
8
servings
|
Calories:
193
kcal
|
Carbohydrates:
18
g
|
Protein:
12
g
|
Fat:
8
g
|
Saturated Fat:
3
g
|
Polyunsaturated Fat:
1
g
|
Monounsaturated Fat:
3
g
|
Trans Fat:
0.001
g
|
Cholesterol:
63
mg
|
Sodium:
375
mg
|
Potassium:
238
mg
|
Fiber:
1
g
|
Sugar:
3
g
|
Vitamin A:
342
IU
|
Vitamin C:
5
mg
|
Calcium:
73
mg
|
Iron:
2
mg